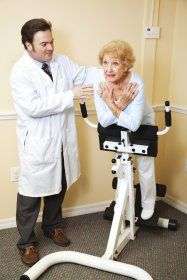 As most older adults know, a single fall can change their lives. For instance, an independent individual may fall in his or her home and land in a nursing facility. According to the Centers for Disease Control and Prevention, 2.5 million older adults went to emergency rooms into 2013 after falling. Of these, 734,000 were hospitalized. The best solution? Prevent falling in the first place. Here are a few strategies to minimize your fall risk and keep you living independently.
Improve Your Balance
How is your balance? Take the One Leg Standing Test to find out. Stand for as long as possible on one leg. If you can't make it for five seconds, you need to improve your balance.
Many older adults minimize their movement for fear of falling. Unfortunately, lack of exercise increases the risk of falling. You need to keep your legs strong and practice balancing. Part of balance practice is learning to catch yourself when you start to fall. Tai chi is especially helpful. See if there's a tai chi or other type of exercise class for seniors in your neighborhood.
Enlist Your Doctors' Help
Some combinations of medications can cause impaired balance. Ask your doctor to review your prescription and over-the-counter medications and determine whether interactions could make you drowsy or dizzy.
Vision greatly affects balance. Just try standing on one leg and closing your eyes, and you'll see how important your vision is. Regular eye check-ups ensure you have the best lenses for your eyeglasses.
Making Homes Safer
Given that many seniors spend a lot of time at home, that's where many fall. But a few adjustments can greatly reduce tripping hazards.
Here's how to make your home safer:
Clear the floor and stairs of anything likely to trip you, such as books, shoes and papers
Add grab bars to your shower and by the toilet
Buy non-slip mats for the tub and shower
Keep your home well-lit. Use bright bulbs, night lights and lighting strips along stairways
Avoid ladders and step stools. Keep frequently used items on low shelves where you can easily reach them.
Wear shoes inside, rather than socks or slippers
Chiropractic Help
A 2012 issue of Chiropractic and Manual Therapies estimated that 5 percent of older Americans visit chiropractors annually. This number will increase as the population ages.
Chiropractors help reduce fall risk by assessing posture and gait, and using spinal manipulation to improve musculoskeletal alignment. Better posture leads to fewer falls. If you are over 65, your chiropractic doctor will probably use low-force techniques to manipulate your spine.
Many patients find pain relief through chiropractic adjustments. This can reduce patients' use of pain medications, thereby helping patients avoid the side effects of the medications. Many chiropractors also advise on nutrition, exercises and ergonomics, all of which aid in fall prevention.
If you're a senior concerned about your health, call our clinic today.